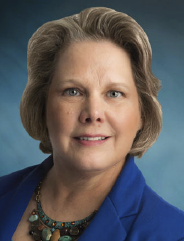 Carol Penterman is a nonprofit leader and entrepreneur. After serving the nonprofit world for over 30 years, Carol started her own business in health care and personal services developing three distinctive service lines. As an entrepreneur, Carol further augmented her expertise in organization structure, operations, board development and team leadership. Returning to the nonprofit realm with the sale of her business, Carol is a sought-after expert in nonprofit leadership and oversight.
Carol has a particular focus on grant research and development, financial structure and management and interim executive management. Two key factors drive Carol's client and team interactions: intentional listening and strategic project management. She seeks to understand an organization's mission, vision and goals-both stated and unstated-for each individual program or project and uses those insights to lead teams to design solutions that can be readily adopted into the unique culture of the organization.
Carol's career began in project and production management with numerous arts organizations throughout the United States. In 1995, she became Chief Executive Officer of the Nashville Opera Association. During her tenure as CEO, assets increased $200,000 to over $12 million, operating budget increased from $450,000 to $2.5 million, and attendance increased by 340%. The Company developed an extensive education and outreach program, a resident young artist training program and established an Opera Fellows scholarship with Belmont University.
Carol assisted in the design, oversight and project management of the Opera's first permanent home, the Noah Liff Opera Center. The Liff Center won the Urban Land Institute 2009 Design Excellence Award.
She has a deep affection for the area and is also a huge community participant. She is the 2019 chair for the Better Business Bureau of Middle Tennessee, a past treasurer and member of the Opera America Board of Directors and served on the Opera America Strategic Planning Advisory Committee.
Carol has received a variety of awards and is honored to be an alumnus of several Leadership programs. Her awards and recognitions include NBJ Best in Business Finalist, NBJ Woman of Influence, InnovateHer Tennessee Award honoring leadership and excellence in women owned businesses, Tennessee Association of Home Care Outstanding Home Care Leader award, Interim HealthCare Leadership Award, Opera America Bravo Award for Excellence as well as many other community awards she's earned over the years. She has been a frequent grant panelist for Opera America and The National Endowment for the Arts.